Sewing has been a bit of a struggle recently. Patrick and I both got ill simultaneously with slightly different things, then somehow SWAPPED bugs just as we'd started to recover, and the two back-to-back illnesses combined with the sudden cold weather has really done a number on my lungs. On top of that, my baste fit of the yellow cords shows that they are doing the exact thing I was worried they were going to do, and lack of ideas on how to fix it has killed my sewjo dead.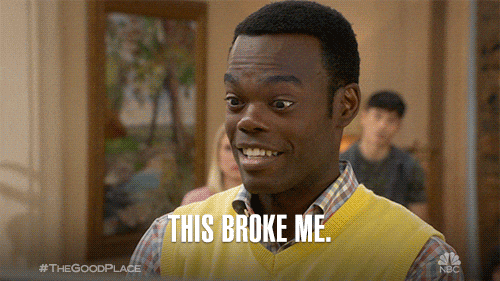 (We're taking a break from the RPDR gifs because I am currently overrelating to The Good Place in a way that probably isn't healthy.)
I wrote this plan over a month ago and honestly in my current state I really don't know how successful it'll be. But things are always worse when I don't have a plan out there, so I'm going to go ahead and post it anyway. I may only get half of it done if things don't improve, but that will still be something.
One of the major motivations behind this plan is to cut down on the size of my stash. We're short on space so I keep my fabric in a wooden box, which is currently massively overflowing and I don't like it. I also don't really like having a massive stash; it's rarely useful to me and I much prefer buying fabric when I already have a plan in mind for it. We're hoping to be able to move house soon, and when we leave here I want to have about half the amount of fabric I currently do, and I want it to fit in the box.
There are a couple of things here I will have to buy fabric for, but for the most part it's me going through my fabric catalogue and working out what the hell to do with everything. Here we go:
A second Rumana coat
I really love my original Rumana and I'd like to make another one in a brighter colour, possibly a slightly shorter length, with a tie belt. I've found some really lovely bright red melton wool (an ex Karen Millen according to my guy at Walthamstow) which I'm excited about, and now I just need to decide what kind of lining I'm going for and whether I do belt loops or sandwich the ties in the back seam.
A fancy pyjama set
I bought McCalls 7875 at the beginning of the year and I've been avoiding putting it on my plans until I actually had the fabric for it. I'm trying to be realistic about which fabrics I'm likely to be able to find without too much hassle, and this didn't seem to be one of them. However, I've now found this amazing silky blue stuff which I'm told is viscose but feels way more substantial, and it's going to be my pyjama jacket and bottoms. I'm slightly nervous that I don't quite have enough fabric, but I'm sure I can work something out. I'm also going to do a test run of the bottoms (to check for the butt/thigh issues I've historically had with woven pyjama bottoms) using some cream tartan wool mix I inherited from my friend's mother's stash.
A fancy Liberty shirt for Patrick
March is a Significant Birthday for Patrick, so I want to make him a proper fancy Liberty shirt. This is one of the few fabrics I'll have to buy and it's not going to be cheap. A quick glance suggests that Shaukat is a better place for the kind of prints he likes than the actual Liberty store right now, so I'll be picking something and making another Sew Over It Hackney shirt (possibly with a double cuff grafted on; I haven't decided yet). This is definitely not happening until I get Christmas and all its accompanying shopping obligations out of the way.
Some black leggings
This is one of those things that isn't strictly necessary right now, but I bought 4m of leggings fabric and using it up would go a long way to freeing up some space. I'm hoping to make two pairs of Jalie Clara leggings and possibly also a pair of shorts from it.
A bag set
OK, I said I'd catch up with this and then I didn't, so I'm putting it back on the official list. Portside travel set, in tapestry fabric (which I do have) and navy canvas or faux leather (which I don't), I will do it before my birthday next year goddammit. I also want to make a few tote bags; my original learn-to-sew tote bag is falling apart from constant use, so I'd like to use the heavier bits of cotton in my stash to make some replacements.
Another pair of Pietra trousers
Something I've been thinking about for a while is making a second pair of slimmed-down Pietra trousers in a fabric with a bit of stretch. I've now made several pairs and I vastly prefer the slimmer silhouette of my blue ones, but my thighs do spread out a LOT when I sit so they're not comfortable if I'm going to be sitting in them all day. I have a couple of pieces of stretch crepe that I bought for other, now-abandoned, purposes, and I'd like to turn one or both of them into slim-fit Pietras suitable for vegging out a bit in.
A Christmas dress
Guess what? More velvet! The first and almost permanently off-putting velvet dress I planned to make was McCalls 6713, and now that I know velvet isn't terrifying I want to have another go at actually making it. My fabric is Dairy Milk purple, which isn't necessarily a traditional Christmas colour, but it's one of my favourites. I don't get to wear it much (it's oddly difficult to pair with other colours and thus not much use to me as a top) and it looks really good on me, so Christmas is its time.
One or two cropped jacket toiles
I know I'm not going to be able to persuade myself to put actual light jackets on this winter post, but I might be able to argue for toiles that aren't really intended to be worn and will set me up for an easier spring. Especially if it clears out a couple of fabrics I haven't been able to work out what to do with. I have the Kwik Sew moto jacket and Sew Over It Amelia jacket, and I'd like to toile one or both depending on time and motivation.
A cape
I LOVE the new McCalls 8029 cape. I do not remotely need it and couldn't justify buying a second lot of wool in one season, but then yesterday Minerva agreed to send me 4m of purple wool blend coating for a blog post, so the cape will be mine! I'm very pleased.
I'm trying not to put a huge amount of pressure on myself to get all of this done. I just want to have several options to pull from so that when I feel the slightest bit of motivation to get going again, I can start with whatever kind of thing I'm in the mood for right then. Fingers crossed for me (and my poor beleaguered lungs, it really hurts to go outside right now), and hopefully I'll have something new to show you soon!